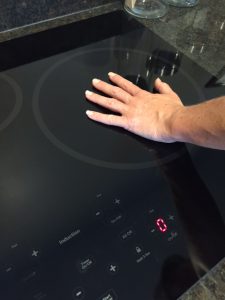 Description of the Device
Induction stovetops use a magnetic field to heat only the pot or pan on the stovetop. Unlike traditional stovetops , induction tops are not hot to the touch, as they transfer the heat directly to the cookware being used. This vastly decreases the risk for burns and accidents, and increases safety for individuals with poor sensation or awareness.
For more equipment to help with preparing meals, CLICK HERE
Temporary or permanent
Permanent renovation to kitchen.
Cost
Mechanisms can vary in cost. Any permanent renovation could be a significant investment but can increase independence.
Contraindications for device use
Be aware that the induction system will ONLY work with pans made from ferrous metals that can be magnetized. You can easily test this by sticking a common kitchen magnet to your pot or pan, if it sticks, you can use this pan on the stove. Do not place wet pans on the stove.
Although an induction stove increases safety with a smaller area being heated, there are still other safety concerns.
Because the technology uses magnetic fields, this is NOT an appropriate device for individuals with pacemakers, cochlear implants, or other metal devices within the body. Always consult with your primary health care provider to see if this stove is the right decision for you based on your medical conditions.
For more information click Here!